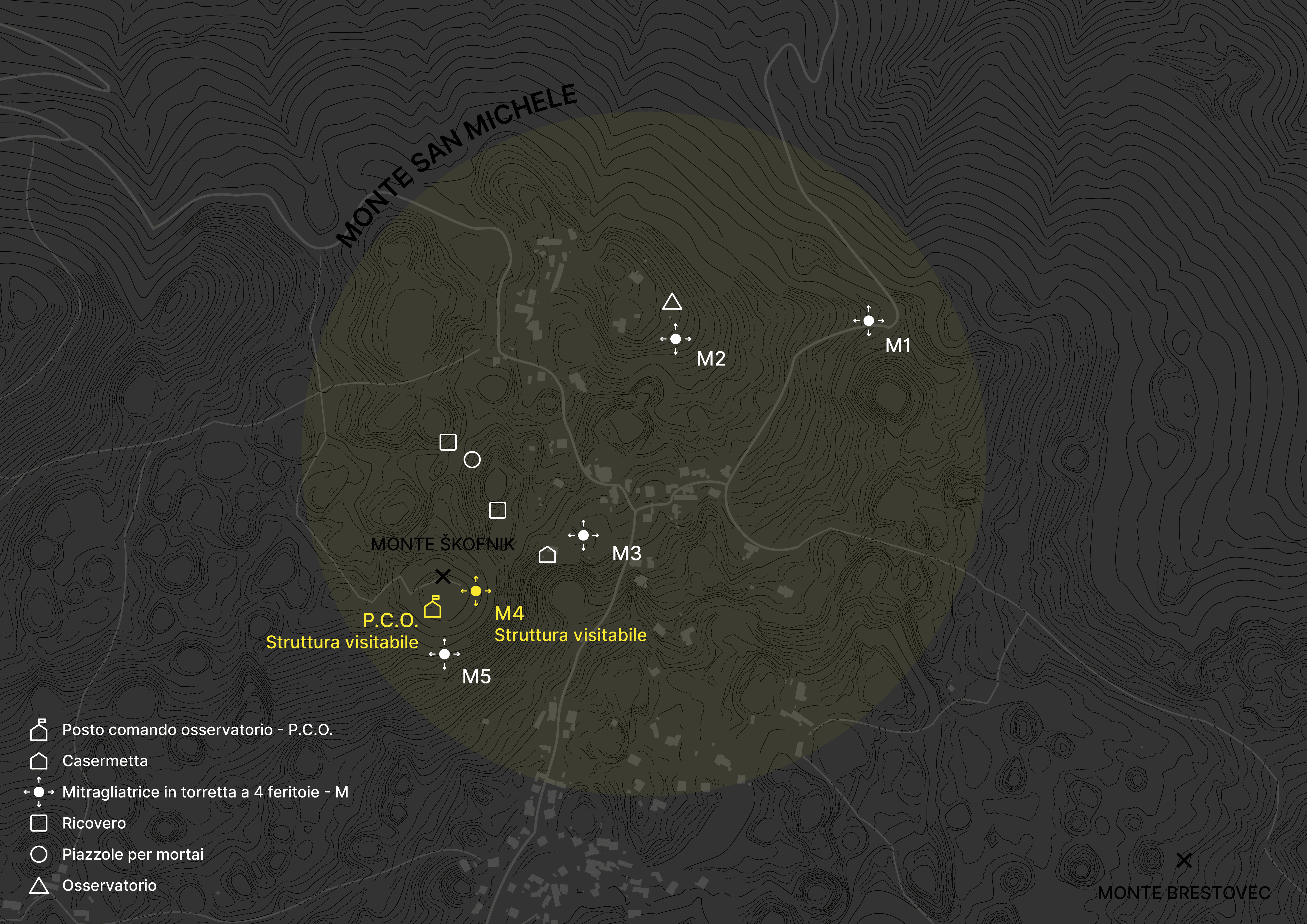 Historical background and composition
The Mount San Michele work, located in the municipality of Savogna d'Isonzo, was built anew at the end of the 1960s specifically because of the defensive requirements against the Warsaw Pact. It consisted of:
an observatory command post (this structure can be visited): this was the hub of every plain work, from here, in fact, the firing of the emplacements and the neighbouring defence operations of the work were coordinated. Owing to the strategic position of this work, the unique observatory command post also housed a command post for field troops, along with an artillery observatory;
five M positions (for machine guns) in a metal turret with four slits: M1, M2, M3, M4 (structure that can be visited) and M5.
The defensive structure was complemented by mortar emplacements, the underground reinforced concrete structures of the shelters for the mortars and assault teams (they had the task of defending the perimeter of the work from possible infiltration by enemy troops) and a small barracks for housing the men assigned to guarding the work. In addition, at the M2 position there was a building used as an observatory for the personnel of "Nembo", the183rd mechanised infantry battalion, stationed in Gradisca d'Isonzo.
The work was intended to prevent the control of Mount San Michele, a modest relief that was however located in an extremely strategic position.
From here, in fact, one dominates the Vipacco Valley, the Castagnevizza plateau, the valley leading to the gulf of Trieste and the "threshold of Gorizia", i.e. the wide flat area that opens out from the city of Gorizia towards the Friulian plain.
The latter, given its conformation, was the weakest point of the entire eastern Italian border and, consequently, this was where the greatest effort by the adversary forces would be concentrated.
The work is in the hamlet of San Michele del Carso in the municipality of Savogna d'Isonzo (GO), between the localities of Brežiči and Lower Cotiči.
To reach the structures that can be visited, you should park your car near the cemetery of San Michele del Carso, then walk southward for a few metres (i.e. with the cemetery on your right) to reach the beginning of a forest road; take the dirt road that goes up to the right (on days when the site is open to the public it will be indicated by a sign with a blue background and a metal sign placed in front of the road) and walk for about ten minutes.
Structures that can be visited are open to the public approximately once a month from September to May. Special openings for organised groups can be planned by contacting the association in advance.